Dyck!! has requested that I stop using exclamation marks at the end of every sentence I write. That is so much harder than it sounds. I am addicted to ! marks and not using them is not going to be easy. I feel like plain periods just aren't effectively expressive enough for me. When I talk in real life, I talk with expression and feelings so that's why I use them when I write. Periods seem boring, lifeless, and monotone to me. So now, Dyck has challenged me to not use ! marks and I am up for the challenge! Oops! Dammit! Fuck.

Moving on...my pet peeve for the day is umbrellas...well, maybe not the actual umbrella itself, but the ignorant umbrella users. I hate carrying an umbrella or carrying anything extra, just like I hate wearing coats and jackets...I don't like being weighed down or restricted with shit. Working in the city has brought on all sorts of challenges, like walking the streets with ignorant ass pig-fucking dip shits. I don't think it's necessary to have an umbrella when it is barely raining, when it's pouring rain, fine...go ahead put up your umbrella, but when its not even misting...there is no fucking reason for an umbrella you cock mongers. People need to be realistic...it's rain water...not acid. People say it's because they don't want their hair or make-up to get ruined...um, it's fucking hair...It will be okay, and it could probably use a wash anyway after all the fucking AquaNet these fuckers use. I don't care about my hair getting wet, oh well, life goes on. It's the people who are so careless with their umbrellas that piss me off, they walk with no clue about the people around them. When they are stopped at a red light, they will whip the umbrella around, not caring who's eyes are going to be poked out. If you happen to be walking towards one, they will not hold it up a bit higher or even move over on the sidewalk to let you pass without having to duck out of the way. It's so obnoxious...I want to grab the umbrella out of their hands, tell them to bend over, and then stick it so far up their ignorant fat ass that it comes out their mouth!
So, here are my umbrella etiquette suggestions:
1. Unless its pouring rain, you don't need an umbrella...it's fucking water...your not going to melt...shit, the Wicked Witch of the West didn't even melt when water was poured on her.
2. Stop worrying about your hair...it looks like a family of rats set up residence in it anyway, and the water would actually help clean out the stench of old lady ass.
3. Don't wear tons of make-up and maybe it wouldn't run down your face and you wouldn't look like you just gave Bozo a deep throat hummer.
4. Be courteous of others around you...it's possible for you to lift the umbrella slightly on crowded streets in order for other pedestrians to walk past without having their eyes poked out.
5. Don't shake off the water from your umbrella when standing next to someone. People don't appreciate that and it makes them want to throttle you violently.
6. If you can't follow these rules, you can expect me to kick you in the back of the knees, hold you down by your neck and forcefully shove that umbrella where the sun don't shine.
And Rihanna...
I hate your fucking umbrella song...it sucks P. Diddy's syphillis infested dick.
End rant.
Here's a fun quiz I found on someone's blog...What Book Are You?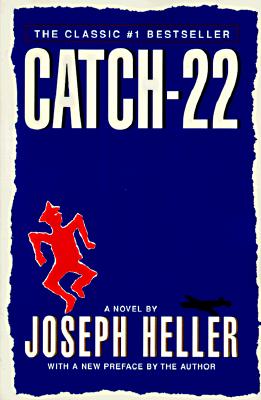 You're Catch-22!
by Joseph Heller

Incredibly witty and funny, you have a taste for irony in all that you
see. It seems that life has put you in perpetually untenable situations, and your sense
of humor is all that gets you through them. These experiences have also made you an
ardent pacifist, though you present your message with tongue sewn into cheek. You could coin a phrase that replaces the word "paradox" for millions of people.

Take the Book Quiz.